Hola, Hello, Ciao, Bonjour, Hej, Hallo, Aloha, Konnichiwa, La Ora Na!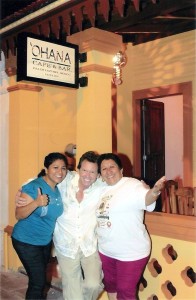 'Ohana Café & Bar opened its doors on New Year's Eve, 2010. The concept of 'Ohana is to offer a laid back scene that feels like home for the island locals, ex-patriots and tourists alike. 'Ohana's scene stands behind the name itself and delivers a kind, friendly, welcome to all. The photos inside of the Café represent the family members involved in the venture and we are steadfast on preserving the spirit of family, love and the enjoyment of life. Our tagline is "Good Food, Good Drinks, Good Music, Good People & Great Times" and that is exactly what we deliver every day. So come enjoy our tropical outdoor patio, our music, our food, our drinks, our people…but most important, come enjoy yourself! See you soon at 'Ohana Café & Bar.
' Ohana Café y Bar abrió sus puertas en víspera de año nuevo, 2010. El concepto de ' Ohana es ofrecer una puesta escena posterior que se siente como en casa de los locales de la isla, ex- patriotas y turistas por igual. "Escena de 'Ohana respalda el nombre propio y ofrece un tipo, amigable, Bienvenido a todos. Las fotos dentro de la café representan a miembros de la familia involucrados en el negocio y estamos firmes en preservar al espíritu de familia, el amor y el disfrute de la vida. Nuestro lema es "Buena comida, buenas bebidas, buena música, buena gente & tiempos grandes" y eso es exactamente lo que entregamos cada día. Así que venga a disfrutar de nuestro patio tropical al aire libre, nuestra música, nuestros comida, nuestras bebidas, nuestro gente…pero más importantes, venga a disfrutar de ti mismo! Nos vemos pronto en ' Ohana Café y Bar.
Please feel free to send any and all comments to us.  We want to hear from you!  No dude en enviarnos cualquier comentario.  Queremos escuchar de usted!
Te Amamos! – Founders and Owners: Angie, Charlie, and Patricia